30 Apr /

Letter to a Dear Friend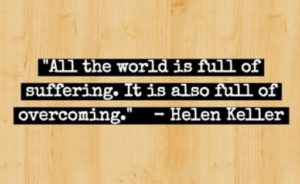 (Note: The following is a letter than was written to an anonymous friend who was going through a tough time in life. My friend provided me permission to share it.)
My dear friend,
Although I recognize that these past few months have been particularly trying on your spirit, I write to let you know that you are on my mind. In fact, today there is little I can think about other than you. I know that there is nothing I can do to solve your problems nor can I make everything right, or change the past; however, I can say that I genuinely care about you. I will say that you mean a great deal to me and if anything were to happen to you, I would be devastated. You see, I've come to accept that every life is precious and sacred and yours is no exception. As the poet so eloquently says, "Beyond a wholesome discipline, be gentle with yourself. You are a child of the universe no less than the trees and the stars; you have a right to be here" (Desiderata).
When I reflect upon everything you have endured and all of your impending hardships, I ask myself "why . . . why did this happen to my dear friend, how could this happen in any just world? How could a benevolent god inflict so much pain on an innocent person? My thoughts then gradually turn to the example of Job, who was unjustly blighted by god but nonetheless never lost faith in his god. Regardless of his suffering, like a loyal dog he never turned his back on his master. Job apparently understood that pain, suffering, and despair did not sufficiently justify shirking his faith.
And as you read these words, you may wonder, "What now? What do I do now?" Be brave my friend, look inward and find that treasure within. Turn to those that care about you, and love you as they love themselves. Although I say this reluctantly, I will say it nonetheless, life is a losing battle, but it is the greatest defeat that one can ever experience. For the reward of the life lived with courage, poise, and faith, is the soul, which we gain from the wisdom of hardship. Believe in the future. I love you and am here for you.